conditionHER
Regular price
Sale price
$30.00 USD
Unit price
per
Sale
Sold out
FREE U.S. Shipping Over $40

100% Satisfaction Guaranteed

100% Secure Checkout
View full details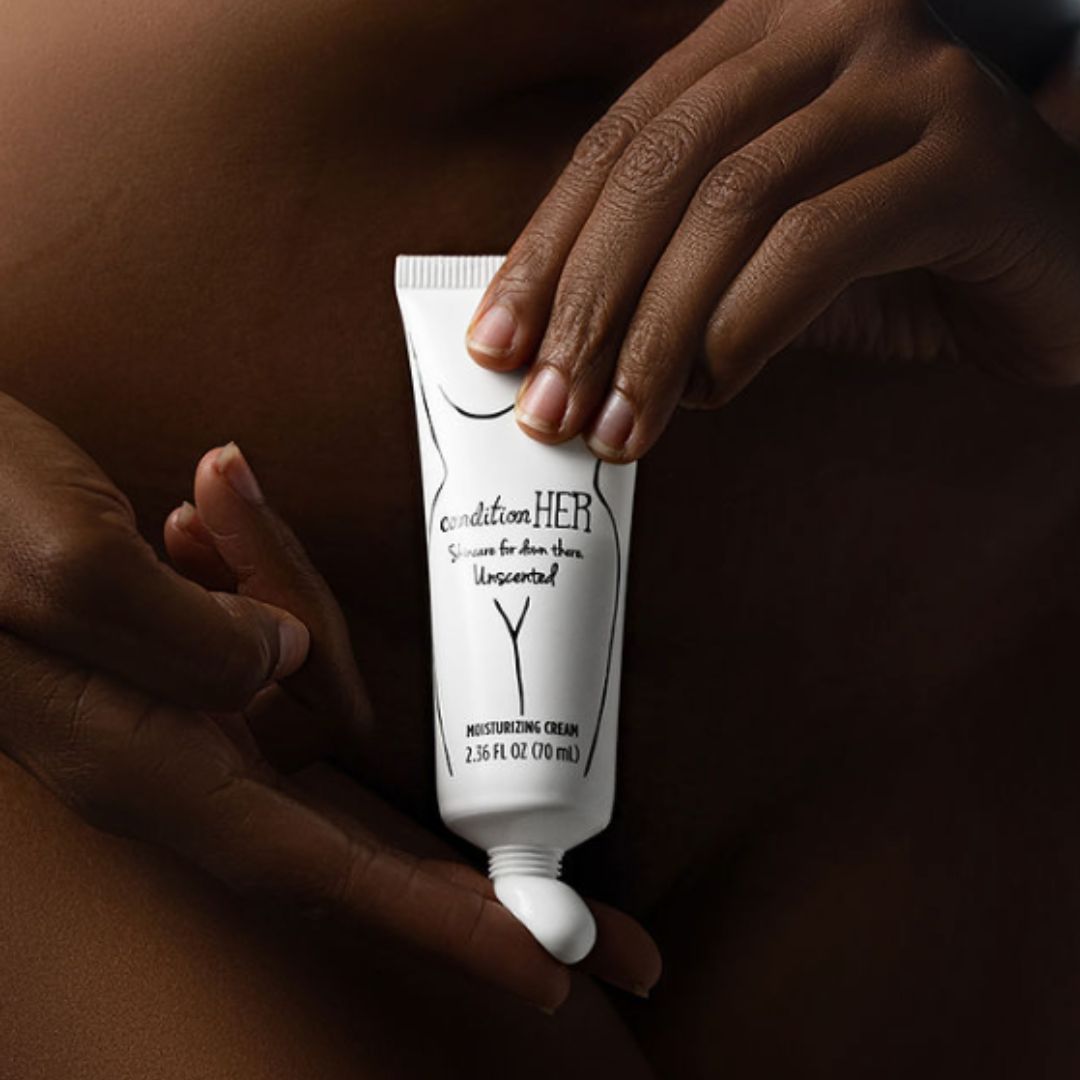 Collapsible content
Ways To Use conditionHER

conditionHER was scientifically formulated with ingredients that are safe for daily use on intimate skin areas like the vulva (the external genital area), but it's so much more than just a vulva cream!

🧴

It's an all-in-one moisturizer that provides relief not only to your lady parts but also to other sensitive and intimate areas prone to skin irritation. This includes the inner thighs, underarms, breasts, and belly - all over! 

*We

 do not

recommend use on the face.

Apply to clean, dry skin and pubic hair

(if present) on your vulva plus other intimate areas to help reduce the appearance of ingrown hair and irritated skin.

🗓️

For best results, use daily as a part of your intimate skincare routine. Avoid application inside the vaginal canal.

🤌🏽

Start off with a small amount

 because

 

a little goes a long way. conditionHER is designed to penetrate deeply, ensuring that every application gives you the maximum benefit.

Irritated with

 

Skin Irritation?

🪒

Use conditionHER immediately after waxing, lasering, sugaring, or shaving to help fight ingrown hair and calm irritation to provide intensive moisture and relief.

🚴🏼‍♀️

conditionHER is also effective between inner thighs both before and after running or cycling to reduce the appearance of irritation caused by chafing.

Post Hair Removal:

Apply immediately after hair removal to help get rid of razor burn & keep ingrown hair away.

 

Post-Wash Routine:

Apply after cleansing once dry to help maintain pH balance.

 

Pre & Post Physical Activity: 

Apply as needed before and after running cycling etc. To keep your skin less prone to chafing.

 

Every Day, Everywhere!

Keep your tube at your vanity (or near your deodorant) as a reminder to give your skin the luxury it deserves!

 

 

Take care of your intimate areas on-the-go with conditionHER! Our TSA-friendly tube is perfect for any purpose, whether you're traveling, post-hair removal care, post-workout refreshment, or just need a little extra TLC!
The Magical Benefits!

🤫

Unveil the secret to softer, smoother, and healthier skin with our safe, all-natural formula that works like magic.

The Benefits: 

✨ Softens Vulva Skin & Pubic Hair

✨ Reduces Ingrown Hair

✨ Soothes Chafing Irritation

✨ Calms Razor Burn

✨ Hydrates Menopausal Vulva Dryness

✨ Reduces Discoloration

✨ Unscented

✨ Sensitive Skin-Friendly

✨ Maintains pH Balance

✨ Natural & Safe Ingredients

✨ EU Approved

✨ Scientifically Formulated & Tested

✨ Gynecologist & Dermatologist Approved

Bonus Benefit!

Our formula is highly absorbent and designed to penetrate deeply, making every application incredibly efficient allowing your 2.36oz tube to lasts for weeks!

💰

We're also committed to making conditionHER as accessible as possible. The Subscribe & Save option saves you 30% on a single tube with automatic replenishment every 2-3 months!

  

☝🏽

But wait, there's more!

conditionHER goes beyond just vulva care.

It's versatile for all areas of the body and can benefit anyone in need of high-quality, natural skincare. Our formula has been found to be beneficial for people of all ages and genders, including those with eczema and rosacea.

🤔

How is this all possible?

Our Ingredients.
The Natural Ingredients

🌱

Discover the power of our proprietary, all-natural formula.

🔬

conditionHER's scientifically formulated blend of Hero Ingredients deeply hydrates, nourishes, and protects delicate skin with a luxurious, fragrance-free cream that's gentle for all skin types.

🇪🇺

Clinically tested and approved by estheticians and gynecologists worldwide and formulated by a woman Ph.D. biochemist while being EU-Approved for the highest quality and safety standards.

 

❌

What's NOT In It:

 NO Mineral Oils

 NO Petrochemicals

NO Phthalates

NO Synthetic Fragrances 

NO Parabens 

NO Synthetic Dyes 

NO Estrogen 

 

Our Hero Ingredients:

 

Cotton Oil

(INIT Name: Gossypium Herbaceum Seed Oil): a skin-nourishing oil rich in fatty acids and vitamin E. It hydrates, locks in moisture, and enhances skin radiance.

Antioxidant vitamin E protects skin from free radical damage while its anti-inflammatory properties soothe eczema, psoriasis, and acne. Cotton Oil softens skin, making it look and feel supple.

Why chosen for conditionHER? Anti-inflammatory for skin and conditioning properties for pubic hair

 

German Chamomile

(INIT Name: Matricaria recutita): a soothing ingredient for the skin, with anti-inflammatory properties that calm irritation and reduce redness. It hydrates the skin, leaving it soft and smooth, while its antioxidants protect against damage from free radicals.

Its calming and healing properties make it ideal for those with sensitive skin or conditions like eczema, and it can help heal acne, rashes, and wounds.

Why chosen for conditionHER? Conditions damaged pubic hair while maintaining the important pH balance for the skin

  

Shea Butter

(INIT Name: Butyrospermum Parkii): a skin-friendly ingredient with moisturizing and nourishing properties for dry, rough, or chapped skin. It has anti-inflammatory properties that soothe irritated skin and reduce redness. Shea Butter also contains antioxidants that protect against free radical damage and aging.

Its healing properties can help with minor skin irritations, cuts, and burns. Rich in vitamins A, E, and F, Shea Butter nourishes and maintains the skin's elasticity and firmness.

Why chosen for conditionHER? Antimicrobial and anti-inflammatory qualities, rich in Vitamin A and Vitamin E to nourish the skin

  

Olive Oil

(INIT Name: Olea europaea): a powerhouse for the skin. Its high levels of fatty acids and antioxidants make it a nourishing moisturizer, while its anti-inflammatory and antibacterial properties soothe and heal irritated skin.

Its rich in vitamins A and E, which support healthy skin and promote collagen production. Olive oil improves skin texture, brightens complexion, and evens skin tone.

Why chosen for conditionHER? Moisturizing, anti-aging, deep skin cleansing, and refreshing post-hair removal qualities

 

 

 🪄

Now that you know why our formula is so magical and effective... 

 

 
conditionHER provides a natural and safe solution to soothe and hydrate your vulva, addressing concerns such as:
Ingrown Hair
Razor Burn
Chafing Rash
Course Pubic Hair
Vulva Dryness
Discoloration and
pH Imbalance
Keep your lady parts feeling soft, smooth, and healthy with conditionHER's gynecologist-approved and biochemist-formulated formula.
It's gentle enough to use on other irritated skin and even softens pubic hair (if present).
Give your skin the TLC it deserves anytime, anywhere!
Meet Gretta, Our Happy Customer!

Gretta experienced fast results after trying conditionHER for the first time! She suffered from a painful chafing rash between her inner thighs due to extremely hot weather, but conditionHER provided instant relief. After applying just a dollop to her chafed skin, it helped heal much faster than normal and with less scarring! There's nothing like the feeling of instant relief, and we love hearing and seeing how conditionHER is "Saving Lives & Inner Thighs" for softer, smoother skin. Watch her 60-sec review to hear more about her experience.

hear what she said

Meet Vickie, A Pro Esthetician

As a professional esthetician, Vickie has made conditionHER a staple at her spa. Clients rave about its transformative effects on their skin, leaving it feeling softer, more hydrated, and more comfortable after hair removal. It's been so well-received with positive feedback that she (& several other pros!) have requested a larger professional size with a pump! Watch her 60-sec demo to see how she uses conditionHER on her clients.

see how it's used

Meet Jessica, A Pro Esthetician

Jessica discovered conditionHER during her early years as an esthetician and has been obsessed with it ever since. We love learning from an expert and she shares: skin discoloration can often result from dehydrated skin. She loves that conditionHER is highly moisturizing, non-greasy, and super-absorbent to deeply penetrate + protect the skin barrier. Not to mention a little goes a long way making it even more ESTI-approved! Watch her 2-minute review to hear more about her experience.

learn from a pro
Meet The Founders
We're a 100% Black woman-owned company, operated by a diverse group of progressive-minded women, including our Ph.D. Biochemist.
Our mission is to create innovative personal care products that celebrate and care for the unique beauty of all women!
From left:
Eugenia Marshall & Wendy Rose Berry
LEARN MORE